Gold Shows are the best way to dip your toes into the world of live sex chat. You get to watch one of the gorgeous cam girls on RabbitsCams perform for you and prove why she's worth every penny you paid to get into that show. But I might be getting ahead of myself here for any of you webcam newbies out there who don't even know what I'm talking about.
Let me give you a complete rundown on all things Gold. I'll explain everything you need to know about this currency, how to get it, how it works, and how you can use it. And then, most importantly, I can explain exactly what a Gold Show is and what you can expect.
What is the "Gold" in Gold Shows?
Before we get into gold shows, let me explain the basics. For example, what is gold? Of course, we all know what gold is in the obvious sense. But in the context of a sex chat site, it's the currency you use to tip performers and pay for shows. Once you sign up for a free RabbitsCams account, you can fill your account as if you're at an arcade so you have the gold ready to go.
Sometimes you can buy different packages of Gold, but the average price will come down to $1 USD for 1 Gold. You can purchase Gold using a valid credit card or your PayPal account. Once your account is topped up, you can use it however you want. Give girls a tip here or there or maybe even set off their tip-powered toys (my personal favorite way to use Gold).
What Exactly Are Gold Shows?
Now that you know what Gold is and how to get it, I can explain exactly what a Gold show entails. This type of show is an inexpensive option to help you get to know a cam performer and what shows you like. Unlike in a Private Show, you're not calling the shots and it's not 1-on-1, so you don't need to feel nervous or pressured if you're shy or new to the scene.
A model sets her own price for admission to her Gold show. Most of the time shows range from 1 to 5 Gold and when you pay it, you reserve your spot. When the show starts, everyone who contributed to her goal gets to sit back and watch her do her thing.
There are a few things you will notice when a girl is holding a Gold show. First is the Gold counter. This shows how much she has received from other members so far. Even more important is what it says above and below this counter. Above, it says how much her goal is, meaning the amount of gold she needs to get before she starts her show. Underneath is a timer.
What does it mean if a girl doesn't hit her Gold goal before that timer runs out? Well, unfortunately, that means the show won't happen. Don't worry, you'll get your money back, but you'll have to look for another performance to join instead.
Gold Shows vs. Private Shows
If you're not very experienced when it comes to live sex chat, you might still be confused about what a Gold Show is versus what a Private Show is. But they're actually quite different. For a Private Show, you pay a per-minute rate to have a private performance from the cam girl of your choosing. If you select an Exclusive Private Show, it's 1-on-1 and nobody can spy on you.
Let's be honest, even the most affordable Private Shows can get pretty pricey. The perk of that type of performance, though, is that you're usually the one calling the shots. If you're paying, you basically choose how long you want to chat. You can also tell the performer what you want her to do (depending on the type of cam girl). You can also cam2cam if you want.
But when it comes to a Gold Show, it's a more affordable option that's just as sexy, but with the girl making the rules. Often when a cam girl is preparing for a Gold Show, she states exactly what she'll be doing in a show in a menu above the chatbox. It usually states how much the buy-in is and how long the show will last.
Don't Miss All the Action
So now that you know more or less what the shows are, you might be asking, "but what will I actually see in a Gold Show?" Well, let me tell you, things get steamy! Even though you're usually only paying a few bucks for these shows, there's no lack of sexy content.
Just by browsing quickly through the list of Gold Shows on RabbitsCams right now, there's so much variety. One Colombian babe named AshleiLee is putting on a show where she pretends to give you a blowjob by sucking on a dildo. I also spotted a Colombian couple, ElektraandLukas, who will put on a live sex show for only 6 Gold.
Some girls will simply strip in their shows. Other times, especially in the case of Dommes, the women might stay fully dressed and just talk instead. If you're into SPH or JOI, this might be a great option to try things out. You really don't know what you'll find in Gold Shows unless you look around for yourself. After all, it varies depending on who's online.
Try Gold Shows on RabbitsCams
You're already on your way to being an expert on all things webcam! Gold Shows are a fun and easy way to get started so what are you waiting for? There are so many different options popping up all the time. You can try out different types of shows you never even thought of. And it will only cost you a few bucks! Once you know what you like, you can look for more cam girls who offer shows like that and then take them private when you're more comfortable. You can always just stick to Gold Shows too and still have the time of your life. Trust me, with the beautiful girls you get to choose from on RabbitsCams, you can never go wrong.
---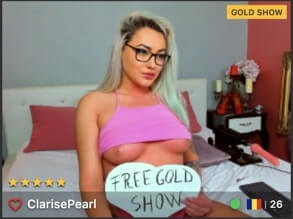 ---
Tags