Hearing "RabbitsCams VIP" might make you think of something high-end and exclusive or it may even make you feel intimidated. But let me reassure you: there's nothing to be intimidated by! A VIP account on RabbitsCams is just a regular old account. You can chat for free and take advantage of tons of other member perks and all you need to do is sign up.
When you're a VIP, you get access to things that non-members don't. From paid shows to Fan Clubs to special features, there are a lot of things you may not even know exists. Sit back and let me fill you in so you can really get the most out of your live cam experience.
Signing Up For RabbitsCams VIP
The first (and most important) step is also the easiest – making your account. Not only is it a simple, two-minute process, it's also free. All you have to do is provide a valid email address, come up with your username and password, and you're almost done.
The next step will be registering your credit card. I know what you're thinking – "Hey! You said this was a free account!" A RabbitsCams account is 100% free and your card will not be charged. We need a credit card on file for age verification purposes but nothing is actually charged until you decide to spend on Gold. If you want, you can link your PayPal instead.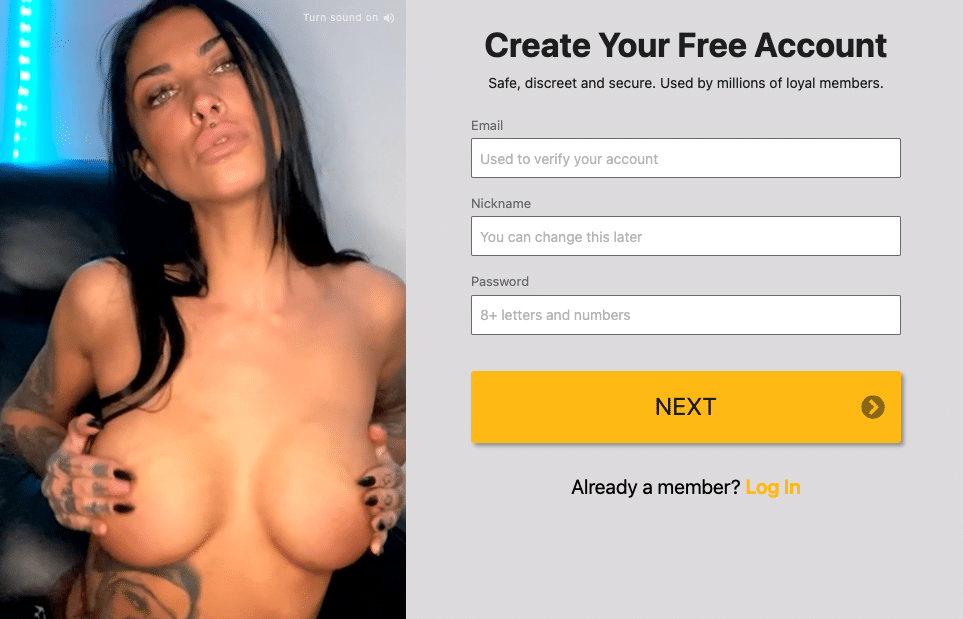 Once your account is set up, you'll notice the URL changes from the usual RabbitsCams.sex to vip.RabbitsCams.sex and now you're ready to get started. With an account, you can talk to the performers in the free chat, watch free live sex shows, add girls to your favorites, set up notifications, you name it. But those aren't the only perks to being a VIP!
Enjoy Gold and Private Shows
The biggest perk of being a VIP member on RabbitsCams is having access to paid shows. Members can buy and use Gold as they wish. You can tip the cam girls in their free room, set off their interactive toys, and check their Gold menu to see what they'll do for you. But why not go one step further?
The best starting point for someone who's a bit more green to the cam scene would be Gold Shows. For these group shows, performers set a Gold buy-in amount and a time limit. If they hit their Gold goal before the time limit is up, they start a performance for everyone who paid. These shows can be as low as 1 Gold and can get very steamy, some even have live sex.
Private Shows are a bit more intimate. You have the option between a regular Private Show or an Exclusive Private Show. When it comes to the Exclusive ones, it means that nobody can spy on you. This is why these ones often cost a bit more. But when you're 1-on-1 with a cam girl, you never know what can happen.
Cam2Cam For More Intimacy
As if just going into a Private Show with a sexy cam girl wasn't enough, as a member, you get full cam2cam capabilities. That means you can turn on your webcam when you're in a private room and talk face to face. You'll get to see each other react to everything and even finish together – if that's what you want.
You get to be in control of what happens in this show (unless you want the cam girl to take charge), whether you want a more wholesome chat to get to know the performer or a sexy virtual hookup. You certainly wouldn't have that option as a free member!
Try Out Monthly Fan Clubs
If there's a performer you love more than any of the others, you might be able to join her Fan Club. Some performers offer this as a way to treat their biggest fans. Basically, you pay a monthly fee for the model's Fan Club to get exclusive perks. The price varies from girl to girl and so does what they offer to members.
Most Fan Club perks include discounts on shows, including both Private and Exclusive Shows. These can range from 10% to 25% or even more. You may also get a selection of exclusive XXX videos that other users won't see. Plus, members get a special icon next to their name in the chat so everyone knows you're a true VIP.
Some of the cam girls offer different levels of memberships with different perks so you can join whichever you prefer. I'll be honest, some of these Fan Clubs can be on the pricier side, but when you weigh the benefits, they're usually worth it. The discounts on Private Shows alone will save you a ton of money in the long run.
Earn Exclusive Rewards
When you're a member, you get to take advantage of the My Rewards program. This is a program that gives back to active members on RabbitsCams. You can earn points and redeem them across the site for special purchases or even redeem them to buy more Gold.
There are different rewards levels – from Bronze to Platinum – and the more active you are on the site, the more points you earn. Enabling notifications for a performer, for example, will land you 500 points. Joining their Fan Club will earn you 400 points. You can read all about the reward levels and achievements on the My Rewards page.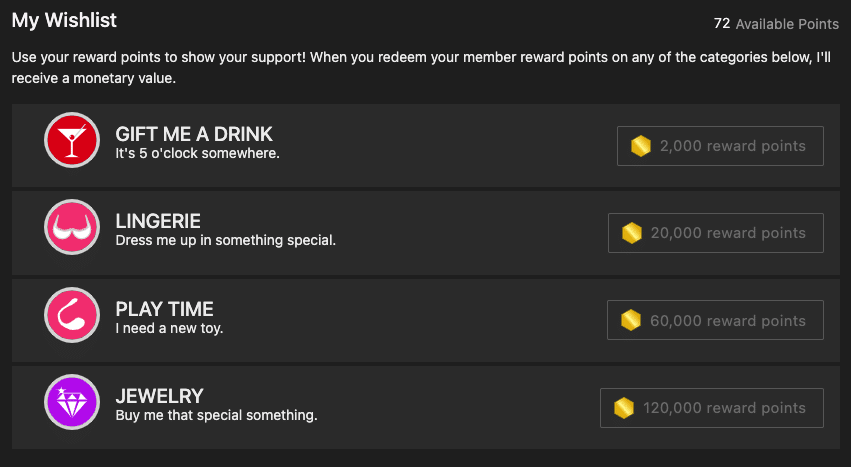 Take Advantage of RabbitsCams VIP
See what you can do when you make a simple, free account for RabbitsCams? It opens up a whole new world of live sex chat that you would have missed out on otherwise. And being a VIP member doesn't only give you access to shows, either.
Sometimes you get more filtering options and more models to choose from too. You can also preview what's happening in a free room before even entering, just by hovering over the thumbnail. These may seem like small details, but when you're on the search for the cam girl of your dreams, they can definitely come in handy!
Now that you know all the perks of signing up, what are you waiting for? There are hundreds of girls from around the world, like Colombia, Canada, and the UK, who are waiting to chat with you and put on a show. Whether you fill up your account with Gold or stick to the free live sex chat, you're bound to have an experience you won't soon forget.
---
---
Tags
Chat Room
Rewards